Supplies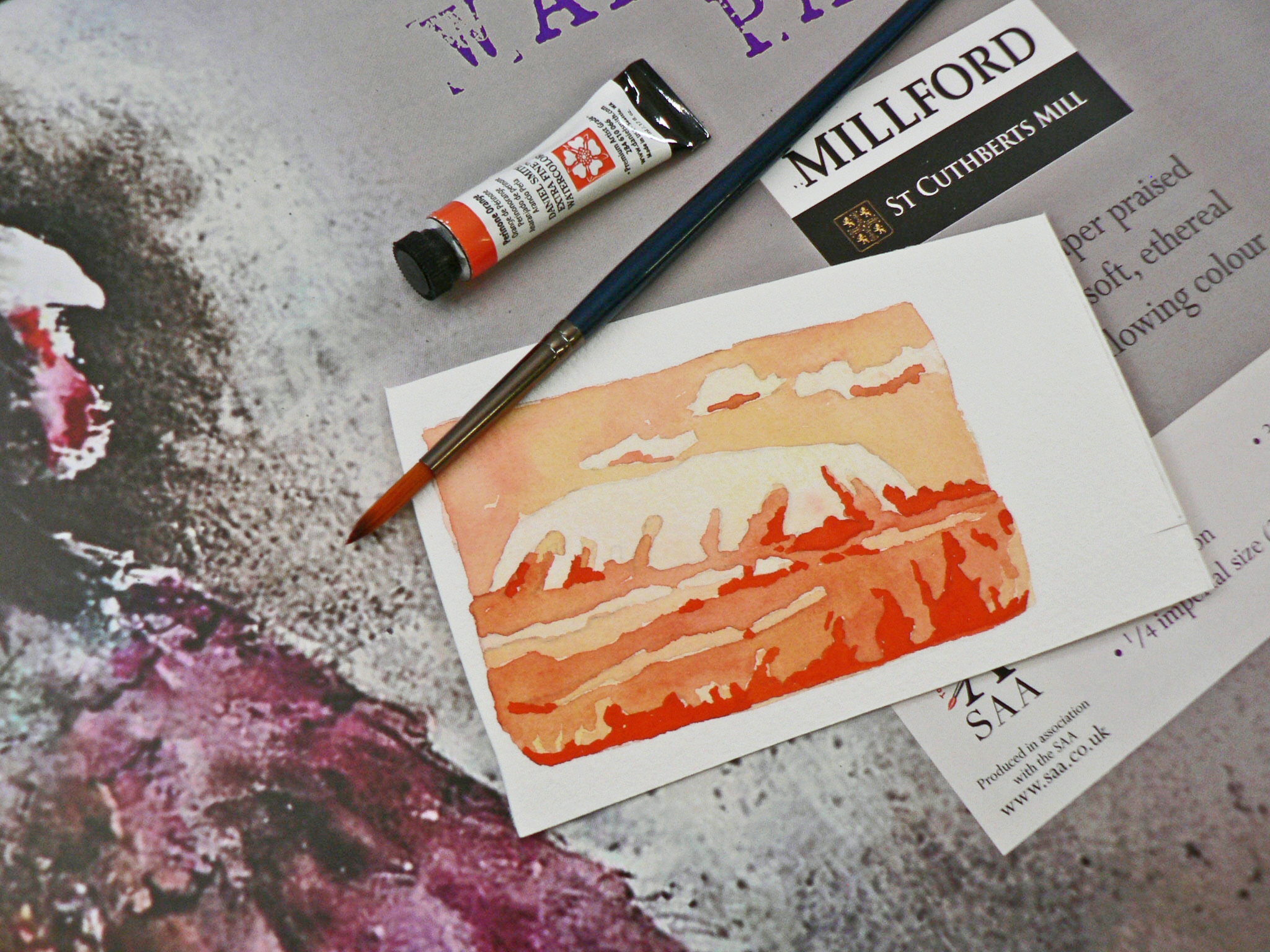 ADVISORY to STUDENTS
Yes - the paints and paper are expensive. That is because they are the best.
The rest of your supplies are quite reasonable.
Please know that the main reason people don't master watercolour is because they are using inferior paints and paper.
Trust me - I know.
Do not let poor supplies be the reason you waste your time, enthusiasm and money on paying for this course.
Get the good stuff please - it will make all the difference.
---

Pinterest Access
Please make sure you can access this special course Pinterest board.
https://www.pinterest.co.uk/eastwitching/loving-the-lay-of-the-land/
On it are lots and lots of excellent and inspirational semi-abstract paintings to help you get the most out of this course.
Do not copy any of them though and put that work anywhere in the PUBLIC EYE! as that would infringe the artist's copyright.
Just look at them and use them as jumping off points for your own painterly experimentation and education.
Supplies Recommended and Suitable Substitutions
Please read through before buying anything as you may already have some items.
You can choose vegan and not vegan options for this course.
Any vegan product will be labelled as such.
We will cover the following -
1 PAINTS
2 PALETTE
3 PAPER
4 BRUSHES
5 ACCESORIES
Here is a link to buy specific items via my Amazon Influencer/Associates page and this is what I have in my storefront so you can see what the items look like.
If you buy from this page I will be given a small percentage from Amazon at no additional cost to you plus it saves you scurrying around trying to find the exact, individual items I request you buy. Thank you in advance if you decide to buy this way:)
You do not have to buy here but you can at least check what the items are/what they look like/cost etc and choose to buy elsewhere if you want.
CLICK THE BLUE LINK TO CHECK EVERYTHING FIRST!
https://www.amazon.co.uk/shop/thepotteringartist?listId=5BMK87Q4M025&ref=idea_share_inf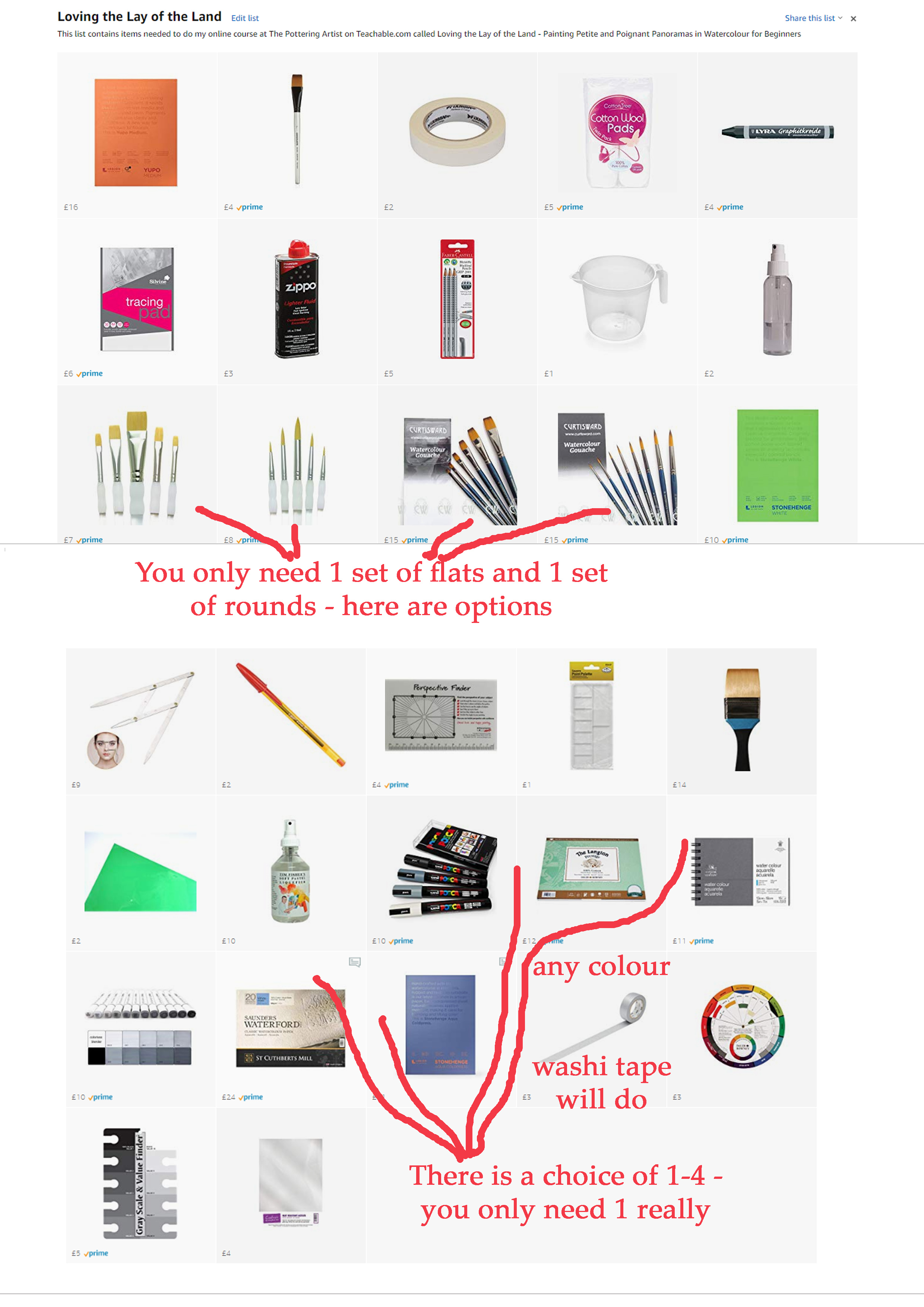 ---
Please print off the colour wheel below using the attached file at the bottom of this page and KEEP it by your workstation at all times. It will become your friend for colour mixing.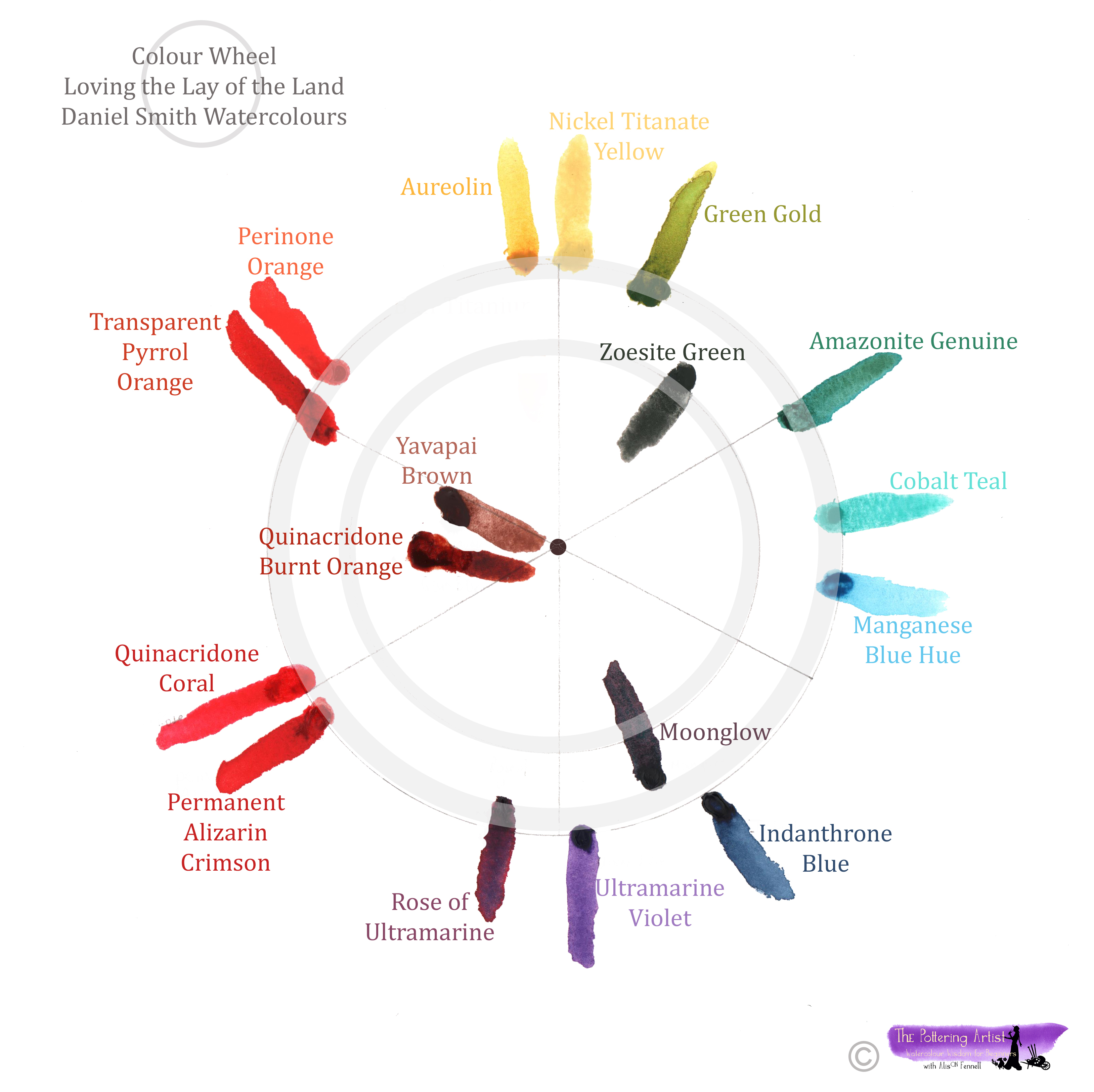 1 PAINTS
Daniel Smith Watercolours as follows:-
Don't have Daniel Smith? Please ask me for substitute colours using other brands - email [email protected] and I will sort you out with approximate substitutions.
Meantime this APPROXIMATE substitution list may help :-
Nickel Titanate Yellow PY 53 substitute with any yellow-green
Aureolin PY 40 substitute with any mid yellow
Perinone Orange PO 43 substitute with any bright orange
Transparent Pyrrol Orange PO 71 substitute with any burnt orange
Yavapai Brown - natural iron oxides substitute with any milk chocolate brown
Quinacridone Burnt Orange PO 48 substitute with any rust coloured brown
Quinacridone Coral PR 209 substitute with any red-pink
Permanent Alizarin Crimson PR 177+PV 19+PR 149 - substitute with any red-purple or ruby
Rose of Ultramarine PB29+PV19 substitute with any purple-blue
Ultramarine Violet PV 15 substitute with any blue-purple
Moonglow PG 18+PB 29+PR 177 substitute with any aubergine
Indanthrone Blue PB 60 substitute with any dulled navy blue
Manganese Blue Hue PB 15 substitute with any blue-turquoise
Cobalt Teal Blue PG 50 substitute with any pale turquoise
Amazonite Genuine Amazonite Mineral substitute with any cool green-blue
Zoisite Green Zoisite Mineral substitute with a dull grey-green
Green Gold PY 150+PY 3+Pg 36 substitute with any bright & warm greenish yellow
If colour pigment codes are your thing please feel free to explore an absolute encyclopaedia of them here - http://www.artiscreation.com/Color_index_names.html#.XbrpK5r7SUk
WHERE TO BUY - WATERCOLOUR PAINTS
We are using professional artist grade paints from the start. This is crucial.
Any lesser quality paints (such as student or hobby grade) simply ARE NOT WATERCOLOUR. They are full of chalky fillers and inferior quality pigments and will not behave like my professional paints.
Daniel Smith Extra Fine Watercolours in 5ml tubes in these colours:-
USA - Buy from www.dickblick.com
Here is the link to the full range. Scroll down a bit after clicking on this link and select the 5ml size tubes.
https://www.dickblick.com/products/daniel-smith-extra-fine-watercolors/
UK - Buy from www.jacksonsart.com
Here is the link to the full range. Select the 5ml size tubes. These are affiliate items so I get a small percentage at no cost to you if you buy them at Jacksons.
https://www.jacksonsart.com/daniel-smith-watercolour-paints
---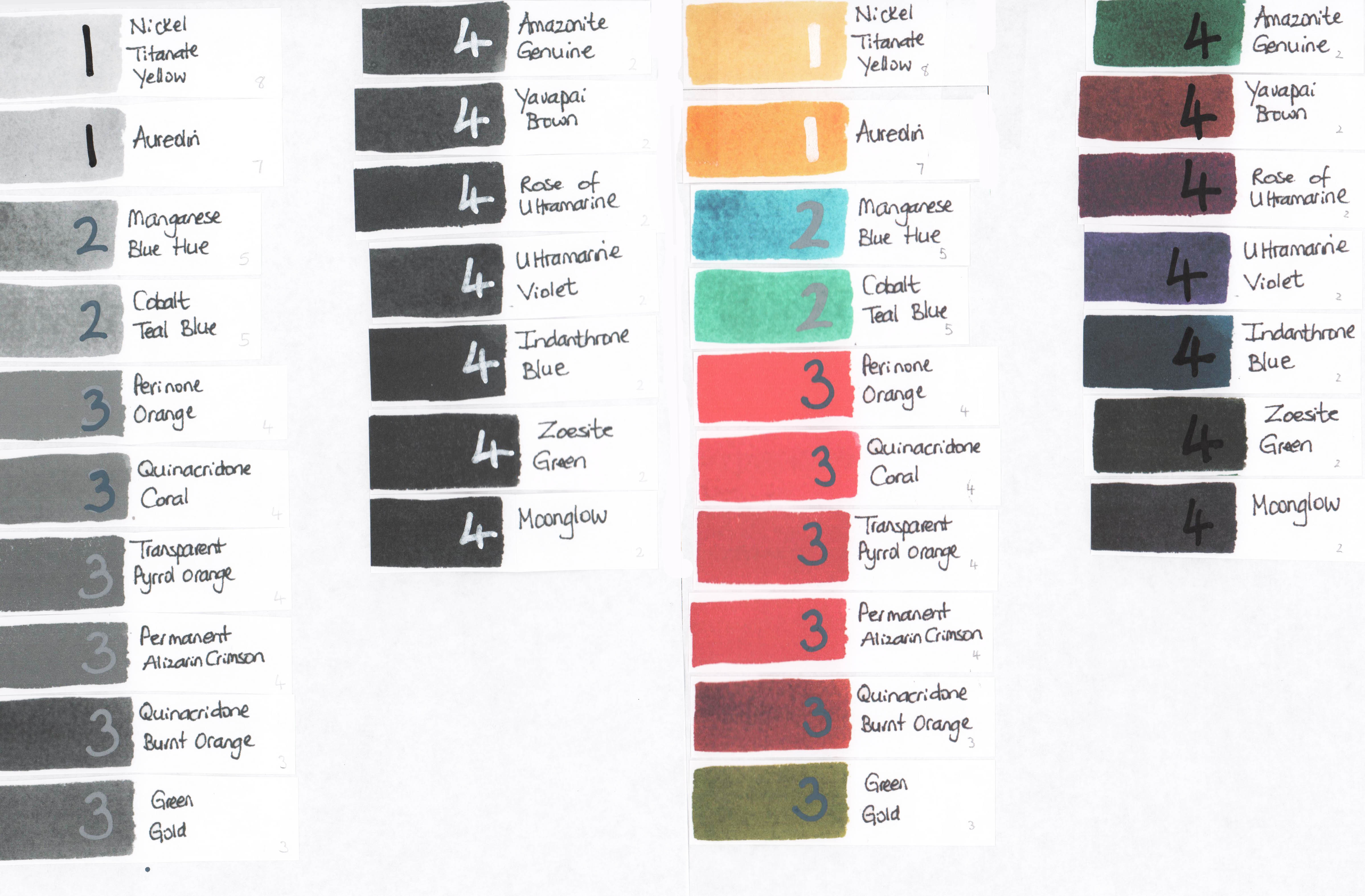 ---
2 PALETTE (these come with lids so that you can keep paints in them for weeks and waste less)
For this course I am using a ceramic lidded palette by Jacksons:-
YOU DO NOT HAVE TO HAVE A CERAMIC ONE!
UK students - buy here - https://www.jacksonsart.com/jackson-s-ceramic-palette-large-19-well-with-cover-size-is-33-x-25-x-4cm
USA students - buy here - https://www.dickblick.com/products/tom-lynch-porcelain-palette/
You can also use these palettes but they may stain with colour over time. Not the end of the world.
UK - Arnold Lowrey Watercolour Palette if you are in the UK -
https://www.amazon.co.uk/dp/B004S68QKS/?cv_ct_id=amzn1.idea.15UV4EDTVAH0Y&cv_ct_pg=storefront&cv_ct_wn=aip-storefront&ref=exp_cov_thepotteringartist_dp_vv_d
USA - Frank Webb Palette if you are in the USA -
https://www.cheapjoes.com/frank-webb-watercolor-palette.html
---
We are using 100% cotton paper and not wood pulp paper. 100% Cotton is the best.
Watercolour BLOCKS (these are watercolour sheets glued on 4 sides to prevent buckling - you cut them off with a knife after you finish painting) for the paintings & PADS for the practice of techniques
UK students - Langton 100% cotton block 10x14 inches COLD PRESSED
USA students - please buy something like this - Langton 100% cotton block 10x14 inches COLD PRESSED
OTHER PAPER
Stonehenge 100% cotton paper PAD 5x7 inch (green cover)
Yupo Polypropylene Watercolour paper
Pad of Tracing paper - A4 - 60gsm (to make your own sheet of tracedown with). Do not buy ready made Saral or Tracedown as they smudge horribly!
CLEAR ACETATE SHEETS
GREEN ACETATE SHEET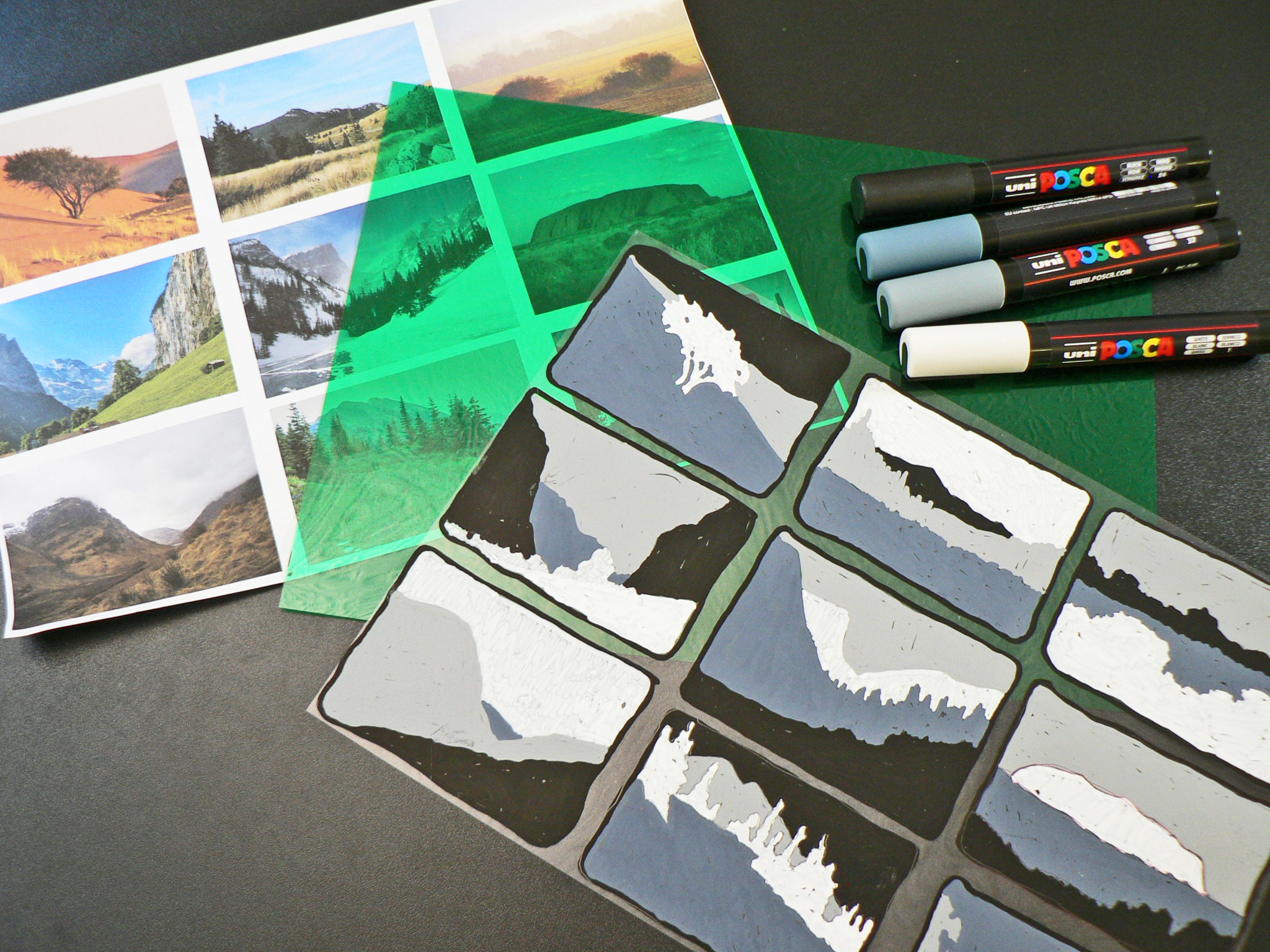 ---
4 WATERCOLOUR BRUSHES - ROUNDS & FLATS
These are synthetic and very good.
ROUND BRUSHES
UK - Curtis Ward Masterstroke Watercolour Brushes - ROUNDS
USA - Royal & Langnickel SG-303 5 Piece Round Set- White - ROUNDS
FLAT BRUSHES
UK - Curtis Ward Masterstroke Watercolour Brushes - FLATS
UK - any flat 1inch watercolour brush
USA - Royal & Langnickel SG-304 5 Piece Flat Brush Set - FLATS
USA - any flat 1inch watercolour brush
---
MARKER PENS
POSCA set of 4 monotoneopaque paintpens
TOUCHNEW Sketch Marker Grey Set
GREY SCALE VALUE FINDER
COLOUR WHEEL Pocket size
STEPHEN QUILLER COLOUR WHEEL
A4 binder
A4 clear punched pocket sleeves
OTHER
GOLDEN MEAN finder (sold as - Eyebrow Tattoo Ruler, Microblading Caliper Ratio Eyebrow Measure Ruler Permanent Makeup Stencil Measuring Tool)
Masking Fluid - masquepen - with additional superfine nib and empty bottle
HB graphite pencil
Pentel white plastic eraser
Water spray mist bottle
2 x 500ml (1 pint) plastic jugs - for your clean, cold water
Bic Red fine tipped ballpoint
Cotton wool pads
Lighter fuel
Tim Fisher Pastel Liquifier (USA/AUS/NZ and other countries may not be able to get this so you can buy any "Rubbing Alcohol" or "isopropyl alchohol" as a substitute OK - the Tim Fisher one is hazardous /flammable so I can't even ship it to you!)
Lyra 9B Graphite stick (do NOT buy the water-soluable one!)
Roll of masking tape 1 inch wide
Roll of Washi tape - 1/4 inch thick (10mm)
Towelling flannel/facecloth - for wiping brushes - essential!
Here's the main supplies list on my Amazon storefront again so you can see what you need.
https://www.amazon.co.uk/shop/thepotteringartist?listId=5BMK87Q4M025
---
OTHER SUPPLIERS I USE
Here I present all my artistic connections in my world as a professional watercolour artist and tutor.
Art Reference Images
www.pixabay.com - free for commercial use images!
Art Supplies
www.artsupplies.co.uk - paper and paints and brushes
www.curtisward.com - paper, paints, brushes
www.jacksonsart.com - paper, paints, brushes
www.cornelissen.com - pen and ink and nib supplies
www.tworivers.com - artisan high-end watercolour cotton paper
How to Clean Your Acetate
Be eco-friendly by re-using your acetate.
You can wipe off the POSCA markers by using your Tim Fisher Pastel Liquifier and a cotton wool pad as shown in the video below/.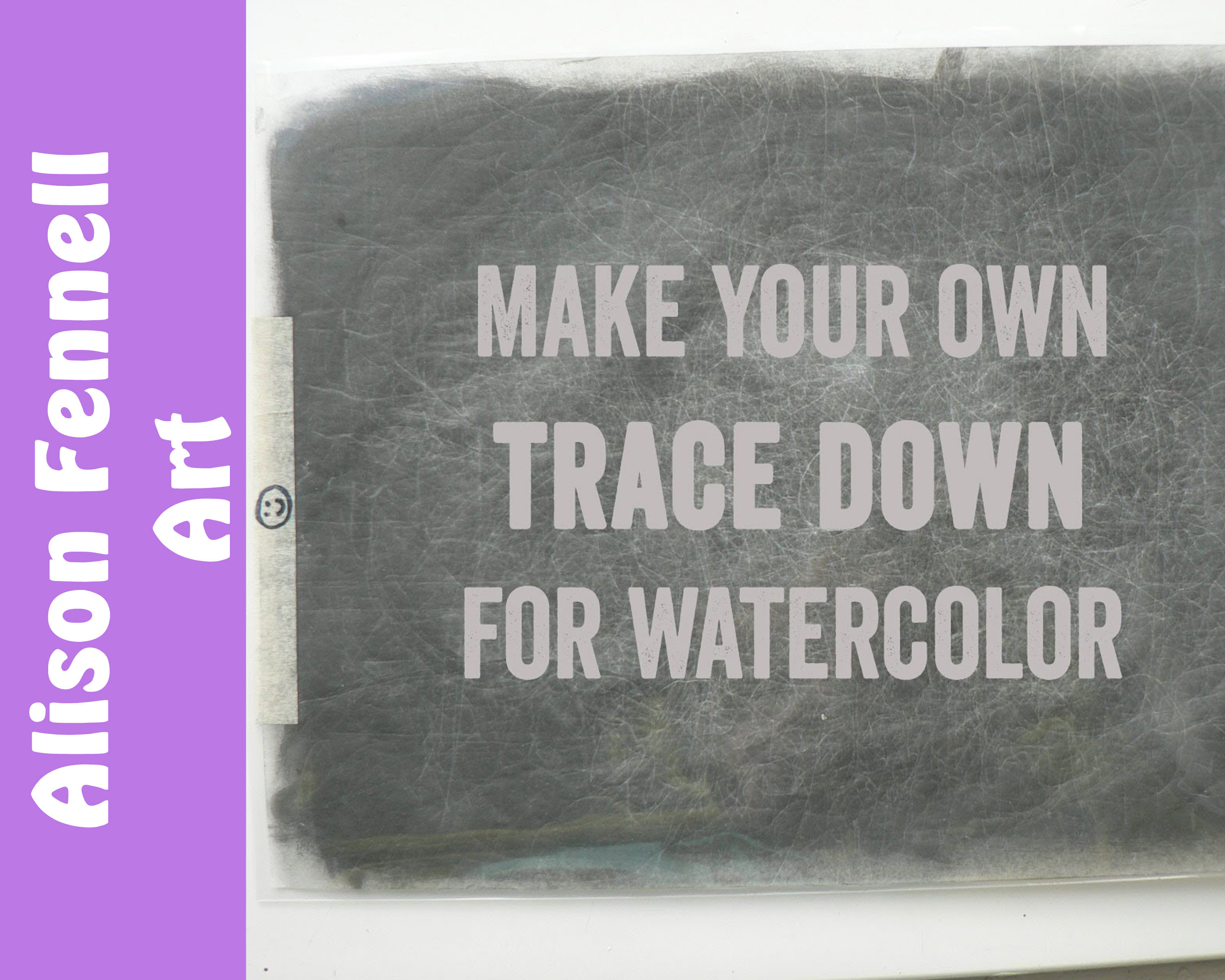 How to make your own Tracedown
You will be tracing small repeating images a lot so Tracedown will help you.
I suggest making your own as unlike shop bought ones this will not smudge.
Please watch the video below now.
Complete and Continue