Welcome & Introduction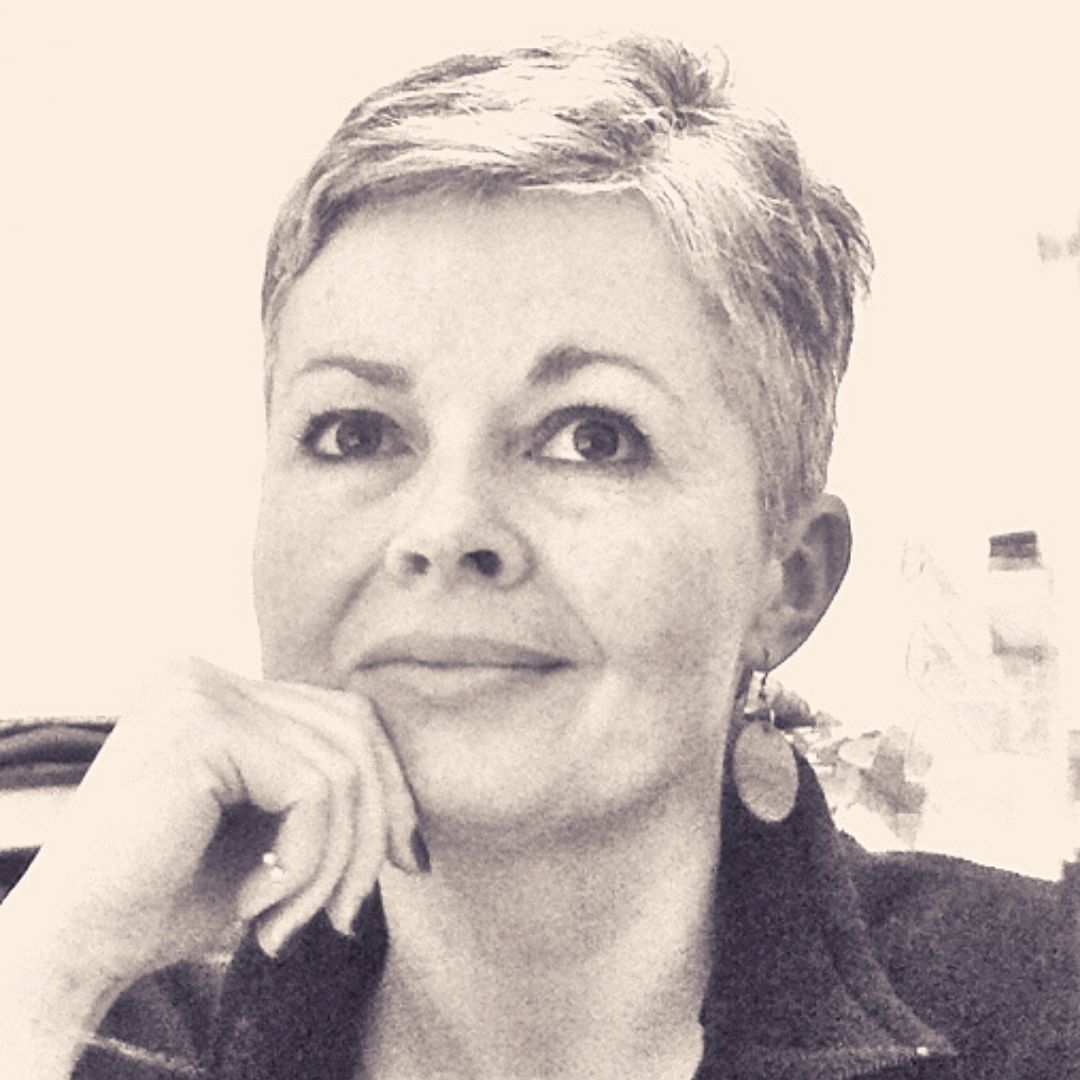 Alison Fennell - The Pottering Artist
Hello Student
Welcome and thank you for purchasing "Paint Loose Watercolour Flowers - Glorious Gladioli"
I hope that you will get much enjoyment and wisdom from this course for your watercolour journey!
Feel free to click around in any order and when you have had a look around perhaps come back and work through methodically.
REWIND - to be able to rewind you simply click on the progress marker dot that is merrily working its way across the bottom of the video as time elapses and as you click on it you can drag it back to very precise points that you want to rewatch – ok😊
Here is a mini screen shot of the course curriculum (also attached below as an A4 downloadable file) and here is the course content list to help you navigate and record progress by ticking alongside lectures you have completed.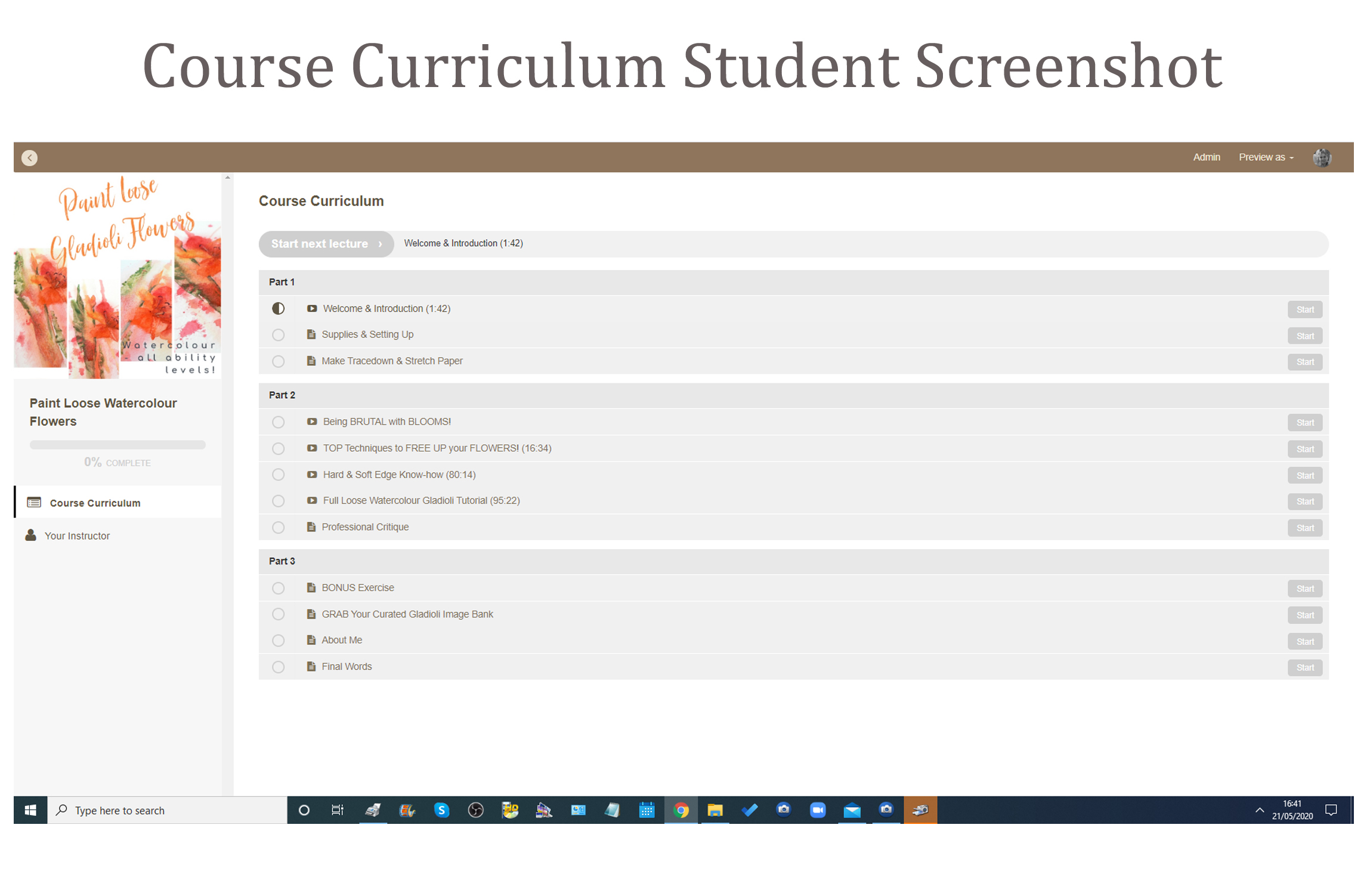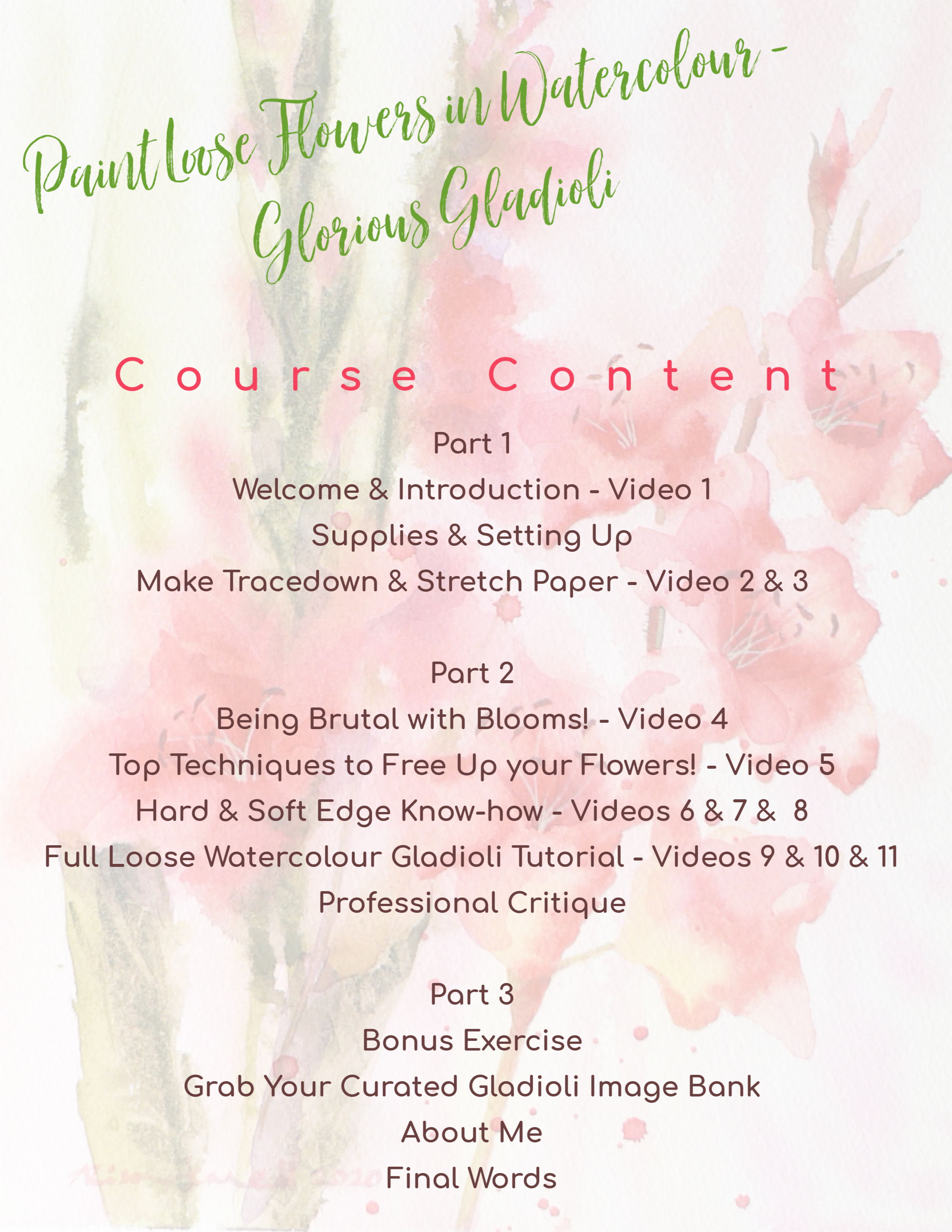 If you have any queries just leave a comment in any of the lectures or email me at [email protected]mail.com
Alison Fennell - The Pottering Artist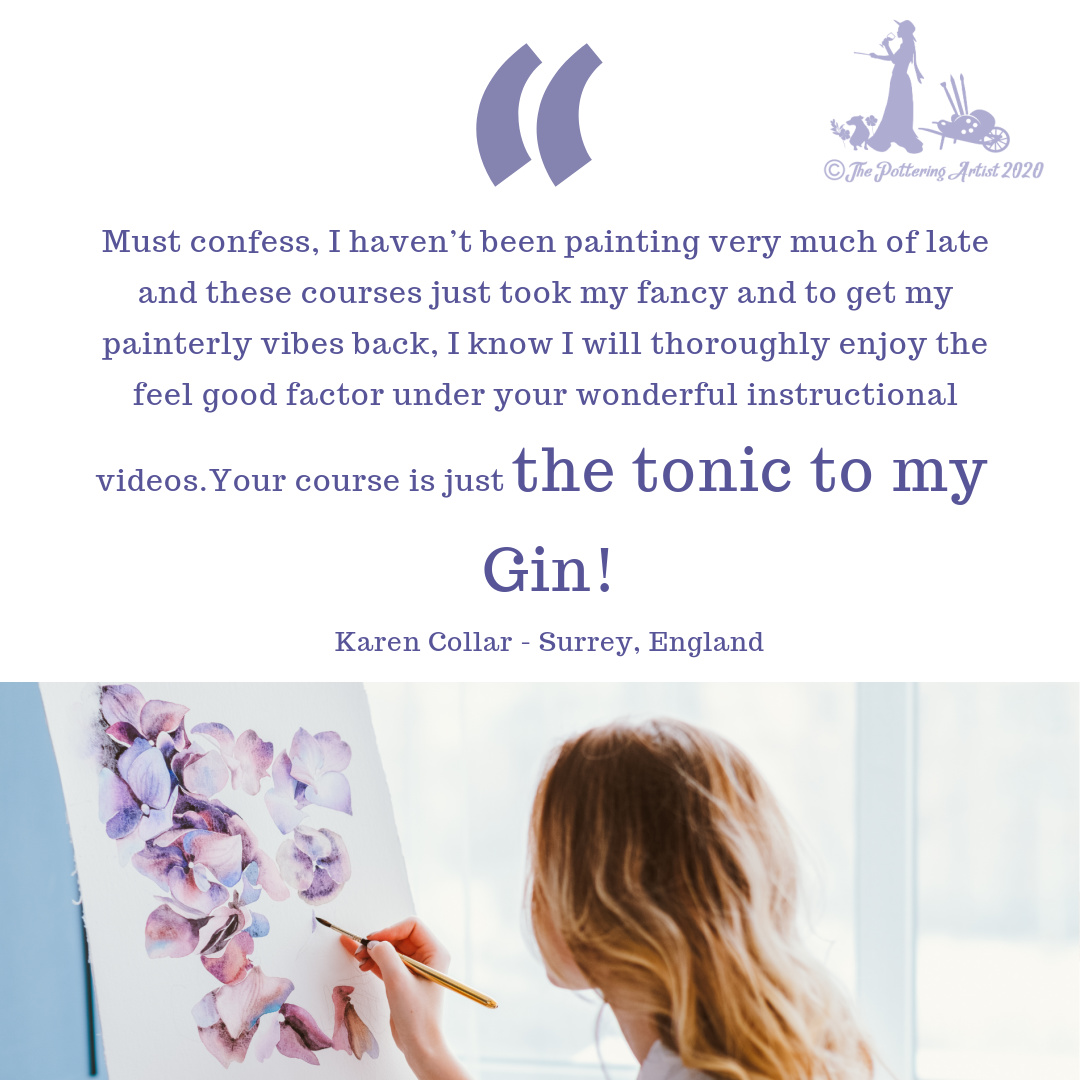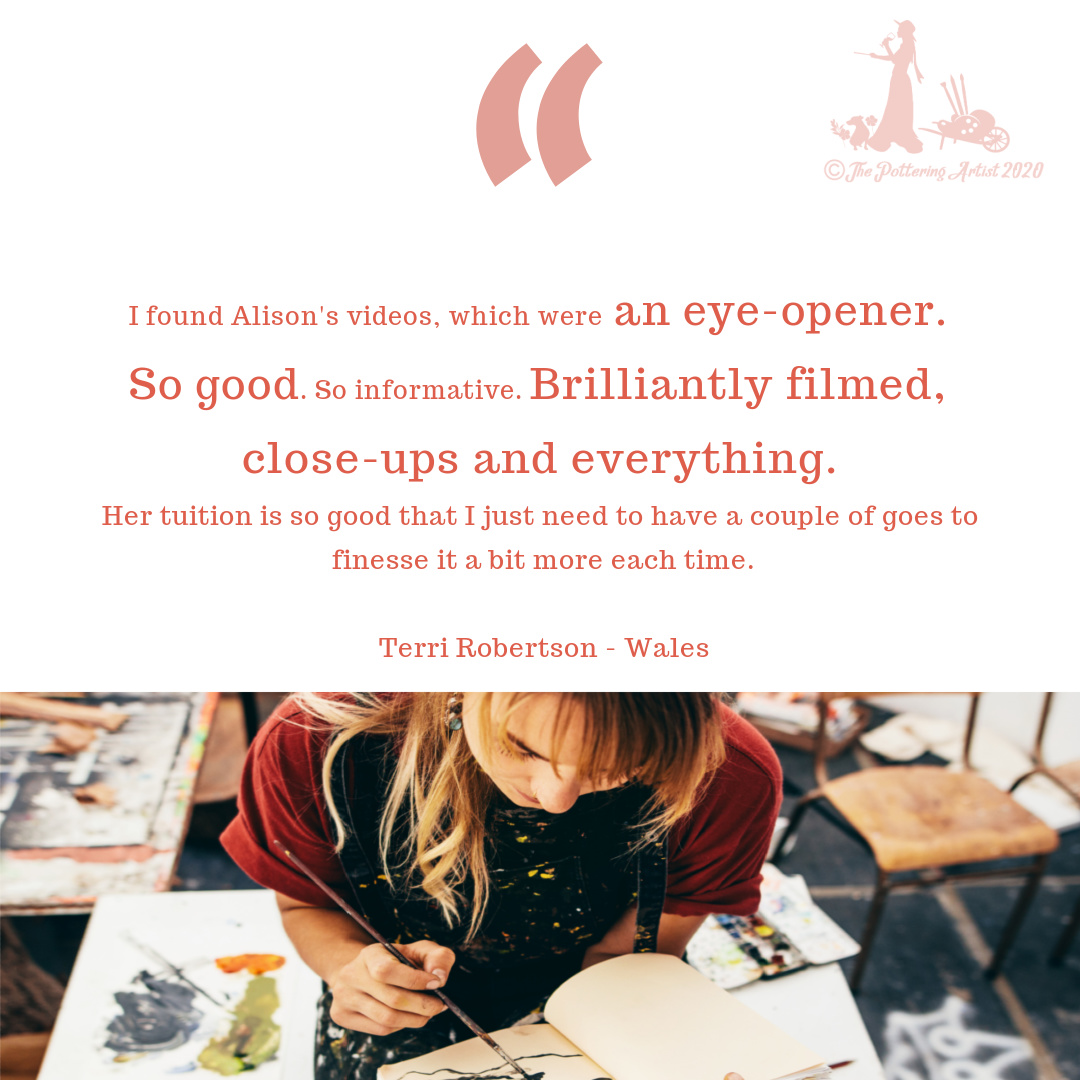 The latest Student Feedback!
I'm having so much fun doing this, you make me giggle, I love your sense of humour..." Don't hang about" 

😊😊

 and "have you had a heart attack yet?". I'm nearly finished and have learnt so much 

😊😊




Dear Alison, A very interesting and informative exercise. I love gladioli as they are so bright and summery. I thoroughly enjoyed painting this little trio of florets. The posterized version of the greyscale image is very helpful in getting the lights and darks in the correct place.




This is just what I needed, Alison! It did not blow up and I did not have a heart attack either. But I had so much fun trying to learn to loosen up a bit. Thank you for the laughs! I did wimp out at the very end on the last splatter and swiping out, though. I just loved the way it looked like it was!




This was beautiful and very informative. I've used several of the techniques you show, but I tend to often: go back in when the paper is damp and end up with unwanted blooms or don't finish the painting (meaning that I stop while it's in the ugly stage because I forget about all the techniques I can use to get the look I want.) Thank you for taking the time to film this in real life time - makes me remember that just because something looks loose and free, it doesn't mean that it is a very quick process to achieve that look. I'm hoping to work on my version this weekend!
---
WATERCOLOUR PROJECTS GALORE!
Get highly crafted, engaging and educational online watercolour tutorials each month.
From just £3.60 to £10.20 a month I'll send you between 5 and 8 watercolour videos to do at home via my Patreon site.
Maintain your skills and have fun plus you can join our Facebook group to share your work if you wish.
Click to see your 4 membership options today.
https://www.patreon.com/join/thepotteringartist?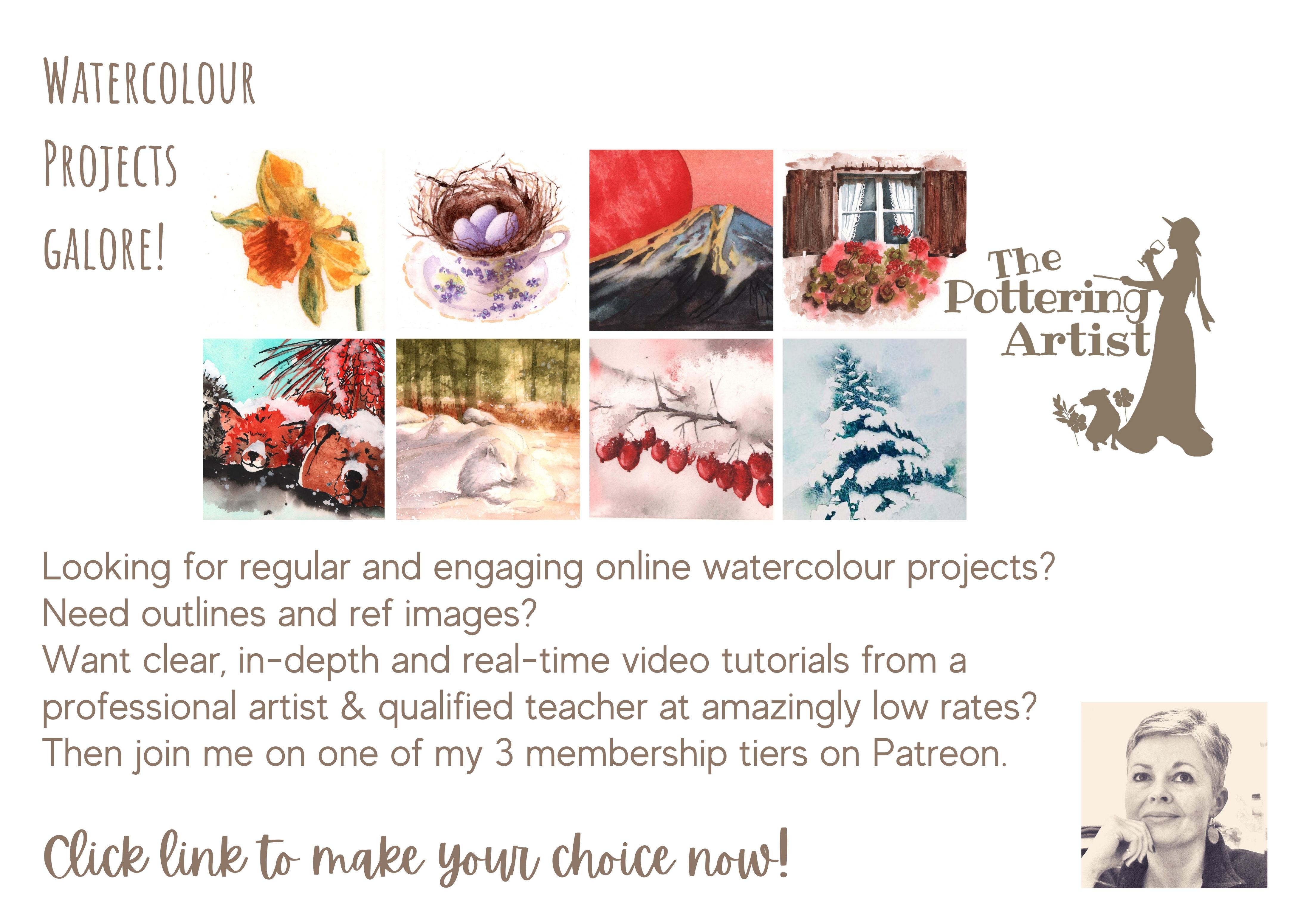 https://www.patreon.com/join/thepotteringartist?
Complete and Continue