WATERCOLOUR PAPER - Types of Watercolour Paper & How to stretch watercolour paper
PAPER - Types of Watercolour Paper - 3 surface types & 3 weights & How to stretch watercolour paper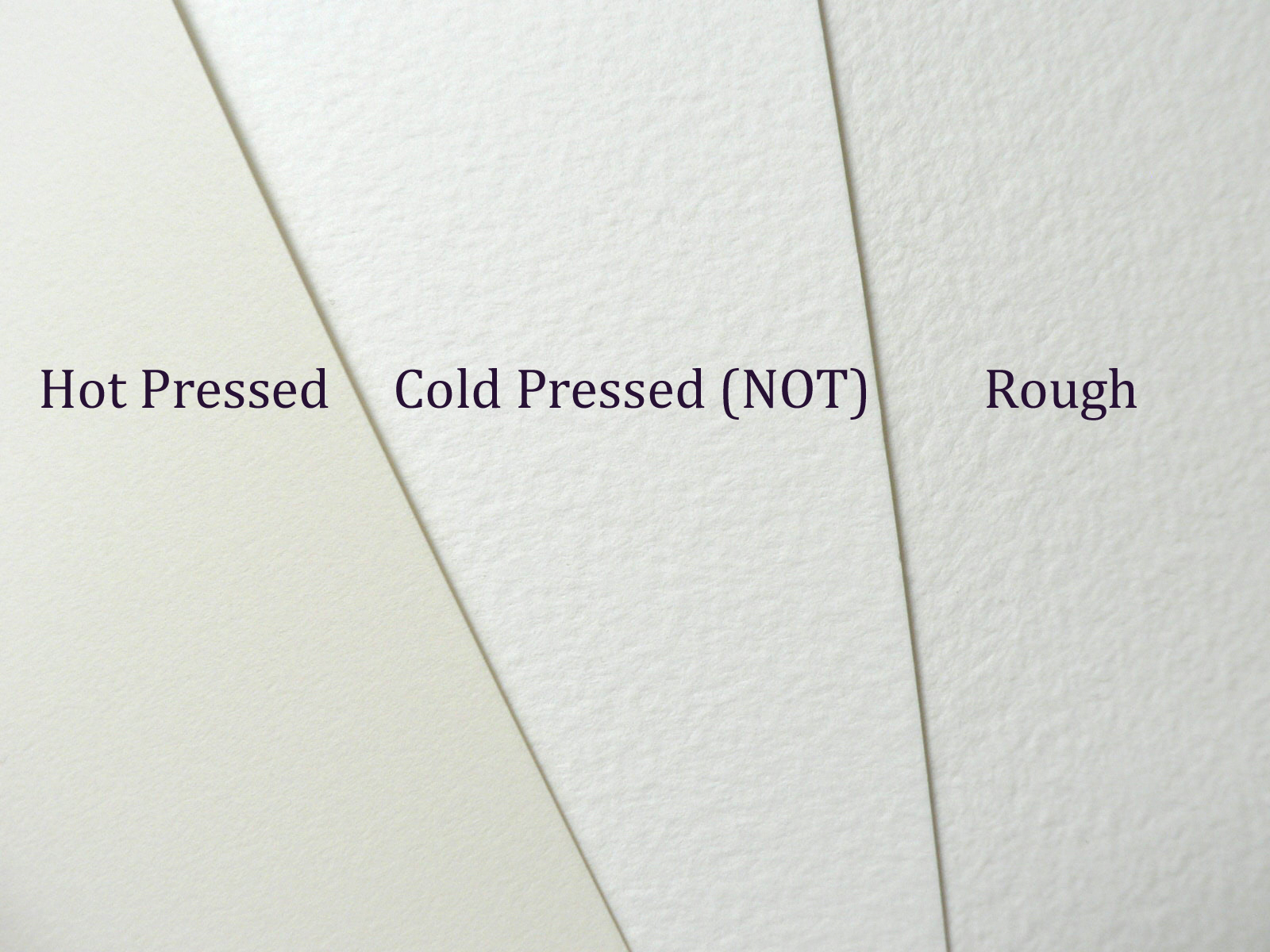 I am going to keep this very simple and general.
We will look at:-
MATERIALS
WEIGHTS
SURFACES
HOW IT IS SOLD
SIZES
MATERIALS
There are 3 main types of watercolour paper.
1 Cotton Rag (or cotton)
2 Wood pulp (also called Alpha cellulose)
3 Polypropylene (Yupo is the brand leader in this paper)
WEIGHTS
There are 3 general weights of paper (i.e - how thick or thin it is)
90lbs - 200gsm
140lbs - 300gsm
300lbs - 640gsm
SURFACES
There are 3 types of surface that watercolour paper can have
Hot Pressed (also called HP, or Satin)
Cold Pressed (also called NOT (as in not hot pressed!)
Rough
HOW IT IS SOLD
Watercolour paper can be bought in different ways.
PADS, LOOSE SHEETS, BLOCKS, BOARDS
1 In a pad - either spiral bound of glued on one side
2 In a pack of loose sheets
3 As a watercolour block. This is just watercolour sheets stuck all around on each side with a 5cm gap of unglued paper for you to slide a knife under and cut each sheet off once you have finished and dried your painting). These are more expensive than the first 2 options.
4 As a watercolour board. Here a sheet of watercolour paper is stuck fast to a strong piece of board so that it does not buckle when you wet it. These are very expensive.
5 Rolls - as the name suggests these are large rolls and are very expensive
SIZES
Watercolour paper comes in these general sizes:-
Rolls of paper, which are usually 44 to 56 inches wide by 10 yards long
Elephant is 29 x 41 inches
Double elephant is 40 x 60 inches
Full Imperial 30×22 inches (approximately 76x56cm)
Half Imperial 15×22 inches (approximately 56x38cm)
Quarter Imperial 15×11 inches (approximately 38x28cm
A1, A2, A3. A4, A5, A6 pads
A range of traditional art sizes - 5x7 inches, 9x12 inches, 10x14, 12x16, and others
HOW TO STRETCH PAPER -
NOW WATCH THE VIDEO BELOW
NO VIDEO!?
(If video does not appear and there is a blank space please click the
"RELOAD THIS PAGE" button or your REFRESH CIRCULAR ARROW icon at the top left of your screen).
Alternatively - scroll down on this blank space and you will see the word "Download" in pale grey. Double click on the word "Download" and the video will open in another screen with Filepicker which you can then watch.
WATCH OFFLINE?
Want to watch offline? Simply double click on the word "Download" and the video will open in another screen with Filepicker. In the bottom right hand corner of that screen you will see 3 tiny white dots in a column. Click on that and select DOWNLOAD. Then you can watch the video when offline on your device!