WATERCOLOUR PAINT - Types of Watercolour Paint
PAINT - Type of Watercolour Paint - hobby/student/artist grades and pans versus tubes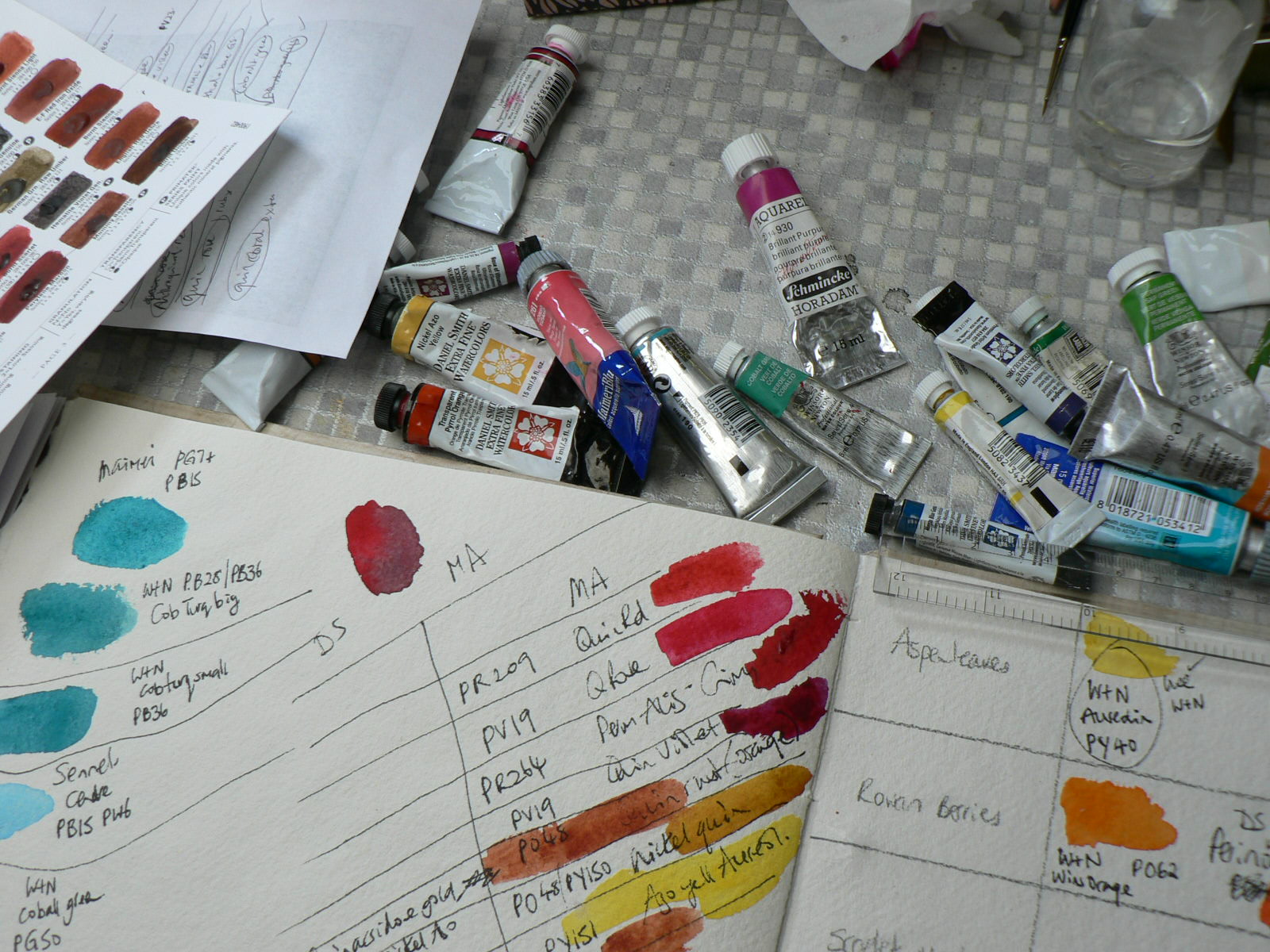 In this course we are using professional artist grade tube paints. They require a lidded palette in which to be placed and kept moist.
You will be using one of the best brands of paint if you use :-
Daniel Smith
Winsor & Newton
M Graham
Holbein
Schmincke
Sennelier
Da Vinci
Professional Artist Grade Watercolour contains only pure pigment and a binder - usually gum arabic and sometimes honey.
There is no filler as is used in student and hobby craft grade paints.
Pigment is very finely ground and only the best grade pigments and substances are used.
In lesser grade paints the filler percentage is high and lower quality pigments and substances are used.
Beware of false packaging where manufacturers label cheap paints as "artists" or "professional" grade paints.
To give you an idea - a
5ml
tube of any professional artist grade paint is going to cost you at least
£4.50 - $5.50 or 4.90 Euros
TUBE V PAN PAINTS
As you will hear in the video I will explain the pros and cons of using tubes as opposed to pans. Again - it is a personal choice so see how you feel after doing this course.
WATERCOLOUR STICKS & PENCILS & BRUSHO POWDER
You can also find watercolour presented in the above forms.
They all have their applications so try them out if you wish.
In-depth examination of these in not within the remit of this beginner's course - we want to keep it focussed and simple - so let's get back to our pro tubes!
NOW WATCH THE 2 VIDEOS BELOW
NO VIDEO!?
(If video does not appear and there is a blank space please click the
"RELOAD THIS PAGE" button or your REFRESH CIRCULAR ARROW icon at the top left of your screen).
Alternatively - scroll down on this blank space and you will see the word "Download" in pale grey. Double click on the word "Download" and the video will open in another screen with Filepicker which you can then watch.
WATCH OFFLINE?
Want to watch offline? Simply double click on the word "Download" and the video will open in another screen with Filepicker. In the bottom right hand corner of that screen you will see 3 tiny white dots in a column. Click on that and select DOWNLOAD. Then you can watch the video when offline on your device!